FARM-HOUSEHOLD-ANTIQUES AT AUCTION
Friday, June 25, 2021 @ 10:00 am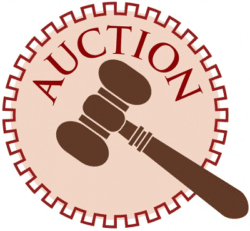 FRIDAY JUNE 25, 2021 at 10:00 A.M.
LOCATED: 44559 279 Street, Marion SD. From Jct of Hwy 44 & Marion oil 4 mi. south & 1 ½ mi. to 279 Street, then 1 ½ mi. west. From Freeman SD 1 mi. south to 280 St, east 7 mi. to 446 Ave, north 1 mi. to 279 Street, then west 1 ½ miles.
NOTE: This is a very large auction with many unique items. We may run two rings so plan accordingly. ALL items need to be removed from the property within 1 week. If you purchase items that need to be loaded with a tractor they MUST be removed sale day.
FARM EQUIPMENT/OUTDOOR ITEMS: 1963 Farmall-McCormick 460 w/oversized tires 13.6-38 and original steer rims & wheels, WF,PS, SN30882, S-Y-CC; Dual 325 Loader w/grapple fork; 2 pt. quick blade; PTO driven 15,000 watt Niagara generator; Hustler Raptor mower 54" flip up deck Kawasaki engine; Jacobsen snow blower; 45 gal FimCo sprayer; 114 gal. propane tank; Asgrow dealer & field marking signs; Hydraulic log splitter; Deluxe heavy duty wire winder; wheel barrow; 8 hp Big mow; Yard Machine 18" rear tine tiller; Ariens 5 hp front tine tiller; Acetylene/propane cutting torch; Orthco-matic grain auger 48'; homemade ice fishing hut; Craftsman 6 hp engine; picnic table; hydraulic cylinders; fencing utility box; steel post tamper; Hawthorne girl's bike; Huffy 10 speed bike; KHS 10 speed bike; Blue Boy 1-ton differential chain hoist; belt drive buzz saw; 2 live traps; assort of old iron; IH 3 bottom plow; 3pt. single bale fork; horse drawn manure spreader; wheel driven mechanic lift duck foot (7.5'); 2 pt IH C-24P 7' sickle mower (quick hitch); 66' collapsible antenna tower; 300 gal. upright fuel tank support; IH pto driven manure spreader; 1984 Honda V-65 Magna; 1982 Starcraft 16' boat w/70 hp Evinrude motor and Minnkota trolling moter w/tailer; corn crib; pickup box trailer w/ball hitch; flare box & trailer; variety of wood (split & not-split); propane cylinders; single stage air compressor (220V); hand crank drill press; variety of oak and black walnut wood; barrel hand pumps; grease guns; hand driven wall drill press; Simpson volt meter; some calving supplies; assort of wood sheep pens; ladders; gas cans; lg. assort hand tools; lg assort garden and yard tools; hoses; Echo chain saw; welding table w/vise; electric grinder; elec trimmer; Homelite chain saw (not working); welding table w/vise; electric trimmer; Mantis mini tiller; cords; fishing rods/reels; shell reloader; battery charger; seven nozzle spray bar; reciprocating long saw; bench grinder; Dremel set; camping supplies; yard toys; landscape paper; flower pots; table top electric grill; gazebo; Wooden pigeon hole cabinet 14'x3.5'; chicken plucker;
HOUSEHOLD: Kenmore top load washer; Kenmore dryer; electric quilt frame; dbl bed; dressers; lots of Christmas décor; kids rocker; luggage; ProForm treadmill; small kitchen electrics; Bunn coffee maker; Kimball Entertainer organ; cooler/jugs; shelving; pictures; baking stone w/rack; Eden Pure elect heater; wood stools; small hutch; Panasonic microwave; microwave cart; Kenmore dishwasher; Whirlpool smooth top stove; kitchen dishes/utensils; canning jars; rocker; wine rack; electric roaster; GE upright freezer; Dayton scale; kitchen cart; step stool; pots/pans; SS bowl set; lamps; gun rack; older TV; SS kettles; turkey cooker; folding chairs; electric rotisserie; aluminum ware; poker chips; misc. gold trimmed dishes; sliver ware; Coleman table top propane grill; much misc. too numerous to mention.
COLLECTIBLES/GUNS/COINS: 25 gal RW crock (chip); copper boiler; #3 galvanized wash tub; coal bucket; sausage stuffer; blue enamelware; older jar lids; store paper holder; Lincoln logs; games; hall tree; wall coat rack; 5 gal crock jug; 3 gal RW pickle crock w/lid; 2 whisky barrels; many crocks assort. Sizes; records; chamber pot; CI stove pipe covers; corn planter plates; barn lanterns; insulators; blue glass jars; chrome table; handmade Cypress wood table; CI tractor seat stool; CI tractor seat; washboard; Kraut kutter; Sodatol wood explosive box; old paper collectibles; 100th anniversary of Mennonites to SD picture; homestead map; old Navy paper papers/memorabilia; 1949 Hutch Co. hiway map; 1911 Turner Co Atlas; 1966 Turner Co. Atlas; 1988 DU wood box w/stein; Bud Light clock; Busch sign; Miller HL light up sign; Old Milwaukee light up sign; Jack Daniels sign; Budweiser sign; clawfoot bathtub; Remington Model 10 12 ga pump; Remington Model 870 12 ga. Pump; Savage/Springfield Arms Model 187 semi-auto w/ Springfield 4×15 scope; Power Master 760 BB/pellet gun; Misc Ammunition: 300, 25-06, 30-06 and 6mm; ,Foreign currency (German); German coins; Various countries foreign coins; jar buffalo nickels; steel pennies; Kennedy ½ dollars; 100+/- wheat back pennies; incomplete sets of- Lincoln pennies, Washington Quarters, liberty head quarters, Jefferson nickels, Liberty dimes, Mercury dimes, buffalo nickels, Roosevelt dimes; Denver Mint/San Francisco Mint pennies 1909-1961; Seated Liberty ½ dollars; ½ cent piece; 2 cent piece; 1903 ½ dollars; Foreign coins; Mehlhaff Trucking Kaylor 1955 calendar (2); Freeman SD calendars; 1953 Freeman area birthday calendar; old sheet music; very large assortment of steel wheels (50+); 2 unique yard rocks; KeenKutter nail puller; 3 barn Cupolas; few horse related items.
BERTHA PREHEIM, OWNER
For info call Scott Prehiem 605-500-9052 or Bertha Preheim 605-925-4653
AUCTIONEERS/CLERKS:
Ken Wintersteen, Olivet SD 605-387-5180 or 605-999-0834
TERMS: CASH/GOOD CHECK/CARD (4% PROCESSING FEE ON ALL CARD PURCHASES)
NOT RESPOSIBLE FOR ACCIDENTS/THEFT;
SALE DAY ANNOUNCEMENTS TAKE PRECEDENCE OVER PRINTED MATERIALS.
LUNCH SERVED