Ralph's Auction
Saturday, July 9, 2022 @ 10:00 am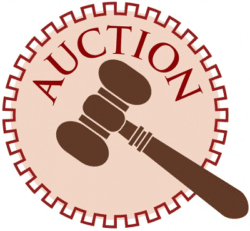 Saturday, July 9th – 10:00 AM
Located: Creative Arts Building – Rapid City Fairgrounds – Rapid City, SD
(605)863-1796 or (605)390-9758 (Dinner Served)
General items:
BELT BUCKLES: Budweiser, old gold light, buck knife, colt, Lord Calvert. Andeker of America, stream locomotive, r/w preferred customer, Honda, Quaker, long haul, South Dakota buckles, including black hills gold rush, Mt. Rushmore, different designs, Meade County, Hermosa, Ipswich, Nebraska centennial, Rushville, Lake McConaguhay, and others. Some nice native buckles one beaded. More to unpack for more surprises.
Coins: pennies, 2.00 bills, silver certificates, Eisenhower dollars, Kennedy halves, uncirculated state quarter in rolls, Susan B. Anthony dollars in rolls, Canadian money, bills and coins mostly dollars. Crazy Horse memorial coin, Mexican coins.
Budweiser steins, a large assortment mostly in boxes and lidded.
Beer advertising lights.
Coin Clock in new box.
Doll large called soft expressions in box.
Playing cards mostly advertising. Mounted Elk Horns 6×6, Painted Buffalo skull. Tomahawk, Indian Peace pipe, Indian Silversmith jewelry.
Occupied Japan dishes other dishes German plates 3 fruit dishes by Buffalo Chine USA
Bud vases including Black Hills Pottery from Keystone
Glassware including Fenton, Heisey, milk glass, frosted horn of plenty drinking glasses, cordials, many items to numerous to mention. USA marine cup, Luray cup & saucer, two water pitcher 1950's
Knick Knacks of all kinds, Pottery some Roseville, Pine Ridge, Frankoma, Hull and more.
Jewelry: Gold washed earrings, lots of rhinestone very pretty, sterling silver charms, watches, earrings, bracelets, necklaces, several interesting sets of jewelry, wooden jewelry boxes other jewelry boxes with jewelry.
Medallions: Will Rogers Shrine, John F Kennedy, 100 yrs helping to create the future 1879 1979, hail to the Chief, Souvenir Penny, Chicago 1033 50th anniversary American Legion, 1919-1969 Abraham Lincoln Peace Medal, Abraham Lincoln Oval medal brass, Deadwood SD .999 pure silver, Pikes Peak 200 anniversary 1770-1970 Monetary 2, Adolph Hilter 1943 swastika cut out, other one stamped, Rushmore Post 1273 VFW, Calgary Stampede, Canada 7-1969, Black Hills Chapter #25 R.A.M. 1886, 1st National Bank of the Black Hills 70
Several one dollar gambling coins from different casinos such as Midnight Starr Deadwood, Rosebud, Prairie Winds, Harrah's, Reno, Bingo, Palace, Las Vegas, Yandi a, Albuquerque, Monte Carlo, Elke, El Morocco, Las Vegas, The Treasury Token, Las Vegas, and others.
South Dakota 5 cent penitentiary coin, France 1962, other medals, pictures and books.
Many boxes to unpack so I know there will be many surprises.
There are also two other big consigners. Come and look there will be something for everyone.
There will be some very interesting items at this auction. Come spend the day and maybe get a bargain or too.
Ralphs Auction
Auctioneers Ralph Harter, Gary, Harlan
Clerk Pam