Ralph's Auction Consignment
Saturday, April 24, 2021 @ 10:00 am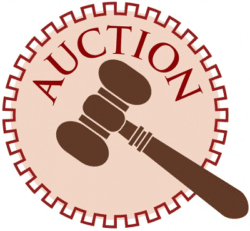 Saturday, April 24, 2021 – 10:00AM
Located: Community Center on A-Ave, New Underwood SD
(605)863-1796 or (605) 390-9758
Lunch Served
General items:
2 recliners, davenport, kitchen table w/4 chairs, TV stand, two large plastic stands, 2 bar stools, 2 single box springs w/ mattress, end tables, coffee table, lots of books, old newspapers, 10 bikes, some tools, large air compressor, ban saw.
Assortment of books- military WWI, WWII, navy, Atlas, whole collection, coin collecting books, wood boxes like ammunition, Winchester, western, Remington, Jacob Schmidt Co., St Paul MN, beer case, wood cigar boxes, glass top cigar case, wood blackboard, caulk box, the case well Horse nail co., cardboard box, collection of eagles, carved, 32" tall, brass book ends, spread eagle wings plaque, German eagle cast iron bookends, Outers gun cleaning kit, misc., old gun cleaning brushes, oil cans, clean patches and poll thru military gun cleaning brushes, An old MT cartridge display case- homemade- framed mount cartridge display of bullets, cartridge cases and cartridges, another glass covered small display-A 18" by 15" by 17" High display case, Brand new 10 piece Queen size bed linen set, assorted other older bedding – bed spreads, a nice Henry troemner pharmacist scale, A 360 pound black bear hide – rough condition, wall mount knick-knack shelf display glass front, an old seth Thomas wood clock, may run a collection of 15 tire ashtrays some are old depression glass, lamps, lanterns, and misc., items too numerous to mention a collection of post cards, Some very old Miners candle holders, rock and mineral collection – Mortar and pestle.
Taking consignments on the April 21, 2021 8am to 5pm.
Ralphs Auction Auctioneers Ralph Harter, Gary, Ed
Clerks Pam and Shakole.