Retirement Auction
Saturday, June 3, 2023 @ 10:00 am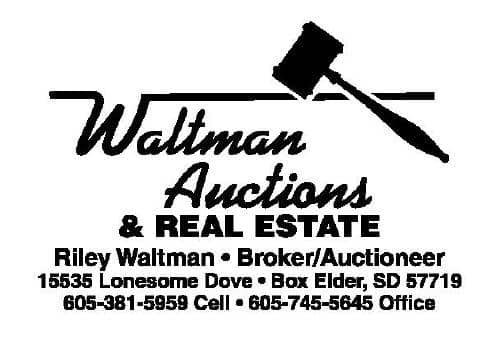 Saturday, June 3, 2023 ~ 10:00 a.m.
On site at ranch at 18300 East Hiway 44, Scenic, S.D.
From Jolly Lane in Rapid City, SD go 47 miles east on Hiway 44 or 8 miles east of Scenic at mile marker 97 on Hiway 44
Machinery/Trailers/Tractors-1982 Chevy C60 w/hoist 350 V8, 460 Diesel Farmall, 3688 Int/N Weeds Dual Loader w/cab, Dresser TD8G Cat, McCormick Farmall 200, 1961 Chevy w/1600 gal. Water tank w/2" pump, Honda 300 Four tax w/blade & chains, 656 gas Farmall w/F10 Farmhand loader, (2) 48' Fruehauf van trailers (storage) 1990 & 1992, 2013 Logan Coach stock trailer 7'x 24' gooseneck, 8' x 16' car trailer, 8.5' x 27' gooseneck flatbed w/ramp, New Holland 851 baler, Danuser F8 12" 3-pt auger, 1300 3 pt. Int mower 9'bar, New Holland side delivery rake, 24' hay rack, New Holland hay bine 2300 series hydro swing, 1959 Chevy Apache 32 PU (project pickup)
Ranch Equipment– 2 saddles a Wyeth and a J.W. Kirwan (Lusk, WY), halters, bridles, (4) brand books 1950/1971/1995/2005, 10' bale feed, metal feed bunk, 4" x 8' posts (20), new barbed wire (13 rolls), woven wire ( 1 roll-new), steel posts (30-40), 10' panels (10 or 12), lumber 2" x 12", 14' & 16' (more lumber-all stored inside), (3) 300 gal fuel tanks w/stands 2 gas & 1 diesel.
Antiques/Collectibles/Household-oil jars, Kalamazoo cook stove (old), 5 qt. Oil cans, 5 gal. Standard oil can (qt.& gal.), 150 lb. anvil, long cut hand saw, Cat generator, cream separator, wheel grinder, scale w/weights, marble top dresser, 1950 thru 2018 National Geographic books, lots of old calendars, old Zenith radio, rocks (many), Red Wing crocks (several), Lionel train set (several cars) new in box, Western paperback books (lots), Silhouette books (lots), Brunswick pool table built by Blake Collender Company from the late 1800's from Old Scenic bar (1940s includes original balls & scorers bead string), roll top desk, tractor seat stool, piano (old), 3-drawer dresser, dresser w/makeup mirror, Hoosiers cabinet, spice tins (lots), Coke box, #3 butter corn, old grain scale (w/weights), wood table w/4 chairs, cream pails & boilers, tractor seats (several), (2) nice wooden wagon wheels w/hubs, old 1927 Case tractor (not running-iron wheels), old Scenic fire truck, boxes of canning jars, Corningware, new set of Salad Master pans, (7) pieces Sioux Pottery, glassware (green & yellow), enamel ware, recipe books, old license plates (1939-1938-1955-1954)
Shop/Tools-jacks, sockets, drill bits, log chains, wrenches, drills, tool boxes, pipe wrenches, hand tools, posthole diggers, pitch forks, axes, shovels, shelving units, clamps, funnels, wood nail kegs, saw horses, Craftsman table saw, wood tape, handsaws, wood tool handles, fan, ext. cords, coolers, Greenfield tap & die set, skill saw, nails-nuts & bolts, 15 W40 oil, fence stretchers, copper fittings, 4 wheeler snow blades, Briggs & Stratton 550 pump, acetylene tanks, Craftsman 5 drawer tool box, 115,000 BTU heater, Powermate generator 3000, parts bin full of parts, heavy duty shelving units 3-12', 2-8', 1-9', hoses, belts, sickle guards, gas cans, baler parts, Warne Chemical pressure pump (new)
Auctioneer's note: This is a partial listing. There are numerous items not mentioned. We will upgrade this ad with photos and copy as we start to set the auction. Lunch will be served.
TERMS AND CONDITIONS: Cash or bankable check day of sale. Driver's license required for buyer number and check. Waltman Auctions is not
responsible for merchandise after purchase or for accidents. All merchandise purchased "As-Is Where-Is". Sales tax will be charged. Announcements made
sale day take precedence over all printed material.
OWNER: Donald (Sonnie) & Shirley Kudrna
Waltman Auctions
Riley Waltman, Broker/Auctioneer
(605) 381-5959