4 auctions,
Auction will be held at the ranch 30 miles east of Rapid City, SD or 13 miles west of Scenic, SD on Hiway 44 Added 1/12/21: 1999 F150 Ford PU, auto-4x4, Super Cab, gas, runs good Tractors/4-Wheelers/Skid steer T6 180 New Holland tractor w/855 LA loader, 950 hrs., 580 Super M Case backhoe w/extending hoe, …
5 auctions,
"THIS IS AN ONLINE ONLY AUCTION" We are selling the personal property from a local estate. Wide variety of items to choose from. AUCTION HIGHLIGHTS 2012 Chevy Impala LS Under 89,000 miles Engine Hoist Part Washer Snow Blower Air Compressor Nice Craftsman Roll-a-bout Tool Chest Shop Tools & Hand Tools Roseville Pottery Montana Silver Smith …
Huge collection of early paper & smalls! Includes many VELIE items!
6 auctions,
ONLINE AUCTION ONLINE AUCTION ONLINE AUCTION SPEARFISH, SOUTH DAKOTA 19682 FISH LANE, SPEARFISH, SD (Take I-90 exit 8 and go North on the Old Belle Road. Go approx 1.5 miles North and Fish Lane will be on your left, follow the auction signs.) AUCTION PREVIEW SCHEDULE: WEDNESDAY JANUARY 20th, 4:00PM TO 6:00PM …
4 auctions,
Remarkable Custom Built Toys--High-quality Modern Toys--4-wheel drives--Pulling tractors & more! Featuring an inventory dispersal from the world famous LeMars Toy Store!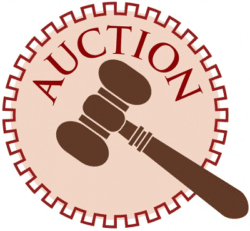 Located: Community Center on A-Ave - New Underwood, SD (605)-863-1796 or (605-390-9758) Lunch Served List of a few items on sales bill: This will be a big sale General items: Two saddles, real nice 6 saddle stand, 80 horse halters and stand, two wood benches, some lawn items, coins, lot of wheat pennies, jewelry, belt …
Online Bidding will start Friday, January 15, 2021 @ 8:00 AM and will soft close on Saturday, January 23, 2021 @ 11:00 AM Andy & Doris Spaans Estate Online Auction Information Located: 2510 S Mentzer St. Mitchell, SD 1000+ Lots of JD, IH and more Toys, Pedal Cars, Advertisers, Antiques, Toys & Collectibles. Vintage Oil …
1000+ Lots of JD, IH and misc. Toys, Pedal Cars, Advertisers, Antiques & Collectibles, Vintage Oil Lubester Dispensers, Advertising Signs, Antique Tools, JD Collector Belt Buckles Read More »
1 auction,
FEATURING: 275 +/- SILVER COINS- MANY RARE DATES, GUNS, AMMO, ANTIQUE & COLLECTABLE TOYS, PRO RODEO COLLECTORS CARDS-MANY SIGNED, LARGE GROUP OF NASCAR ITEMS PLUS MORE! AUCTION LOCATION: BERTOLOTTO REAL ESTATE & AUCTION OFFICE, 1102 JUNCTION AVENUE, STURGIS SD VIEWING TIMES: JANUARY 22ND 11:00 A.M. TILL 2:00 P.M. MST OR BY APPOINTMENT AUCTION DATES: START …
ONLINE- BLACK HILLS STOCK SHOW COIN AND COLLECTABLES AUCTION Read More »
5 auctions,
2 LAND AUCTIONS 120 – 800 Acre Tracts Wed. Jan. 27, 2021 * 1 pm MT At American Legion Hall, west edge of Philip, SD Haakon County – West Central South Dakota • Handy-sized tracts from 120 to 800 acres for rural homesites, or to add onto existing operations -----north of Philip, SD • Outstanding …
9 auctions,
THIS IS AN ONLINE ONLY AUCTION Property Address: 2705 Ardee Ave. Rapid City SD. Legal: Freeland Subd. Lot 9 Selling at auction without minimum or reserve will be a .76 acre parcel just on the edge of Rapid City. This property does allow for manufactured homes. There is room for a garage/shop building as well. …
THIS IS AN ONLINE ONLY AUCTION" To settle a local estate we will sell of the remaining personal property at online auction in Rapid City. AUCTION HIGHLIGHTS 2000 Dodge Dakota 4x4 Pick up Ruger Firearms Ammo Coins and Currency Gold and Sterling Jewelry Century Wire Feed Welder Lincoln Arc Welder Welding Table Buffalo …
3 auctions,
'PRE-STOCK SHOW SHOWROOM AUCTION" (2) FIREARMS – SOME AMMO –CROCK COLLECTION ANTIQUES/COLLECTIBLES –HOUSEHOLD – ETC. ABSOLUTE ONLINE AUCTION ~ 282 CHOICE LOTS ~ ~ Auction Close Date ~ FRIDAY – JAN. 29, 2021 – 6:00 PM AUCTION Dates/Times: Online bidding opens Sunday, Jan. 24, 2020. Bidding will begin to close on FRIDAY, Jan. 29th at 6:00 …
1 auction,
500+ lots of 1/64th scale! 100+ DCP Trucks, 1/64th Puller Collection, GOLD & CHROME Chasers, & more!